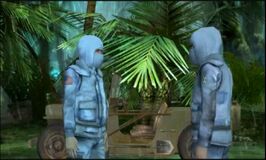 "I think you're wrong..." - Patrol troop 2032
The Patrol troops we`re from the Eagles Of Heaven drafted into Dark Origin ranks, when Dark Origin and their leader Howard Gallow took over the Nuculear island facility, the Patrol troops patrolled the area on foot or in jeeps, while the normal Dark Origin Grunt troops patrolled the building facility, when Susie was sent out to stop Dark Origin she came across many of these troops, she had to sneak up behind and attack them sending them down. When Howard was stopped, the Patrol troops like the rest of Dark Origin were disbanded.
In 2032 with Dark Origin reformed and with a new leader Johnson, several of these troops we're called back into service for the new Dark Origin.
Ad blocker interference detected!
Wikia is a free-to-use site that makes money from advertising. We have a modified experience for viewers using ad blockers

Wikia is not accessible if you've made further modifications. Remove the custom ad blocker rule(s) and the page will load as expected.