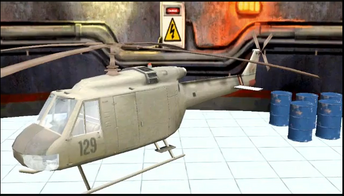 "They've got a chopper!?" - Susie 2020
The helicopter was one of the many helicopters on the Goverment Nuculear weapons faiclity island, when Dark Origin later took over the island in 2020 their leader Howard Gallow and his pilot made one his personnel transport. Howard later used it to travel to Hill Nothing.
Ad blocker interference detected!
Wikia is a free-to-use site that makes money from advertising. We have a modified experience for viewers using ad blockers

Wikia is not accessible if you've made further modifications. Remove the custom ad blocker rule(s) and the page will load as expected.