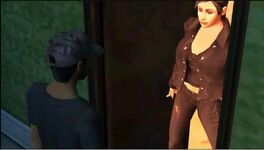 "Open up, its Mick" Mick to Susie New York 2032
Mick lived in New York he worked for the New York crimelord the Boss in 2032, the New York police would be looking for the Boss and probably Mick aswell, the Boss sent Mick to collect Susie who worked for him aswell, Mick brought Susie over to him, and soon the Boss orderered that she be killed, he tryed to kill her with other mobsters but Susie killed Mick`s fellow mobster and she escaped.
It is unknown what happened to Mick after, the Police might have got him, he may of left New York, but he probably stayed and he may of become infected when the virus hit New York, but he would of been quickly killed when a nuke destroyed the whole city.
Ad blocker interference detected!
Wikia is a free-to-use site that makes money from advertising. We have a modified experience for viewers using ad blockers

Wikia is not accessible if you've made further modifications. Remove the custom ad blocker rule(s) and the page will load as expected.